Motherhood
Motherhood | Meet Padmini Gupta, an inspirational mum of two, who not only has a Masters from Oxford University, but is now trying to create an incredible social venture to help our nannies make a better lives for themselves.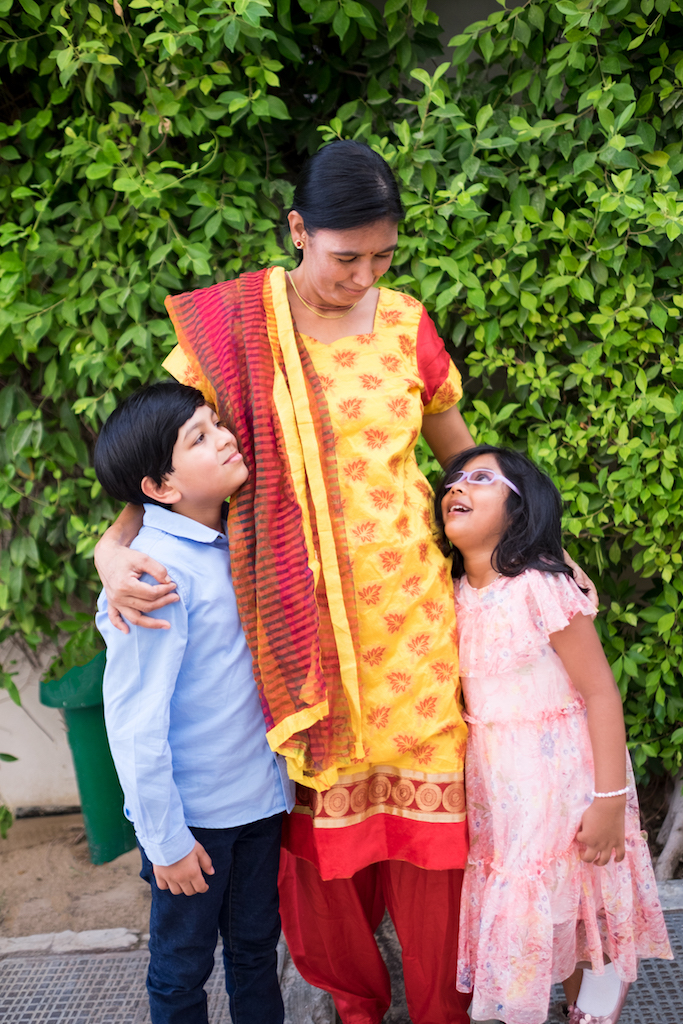 One can't help but like Padmini Gupta, let alone be utterly inspired by her.  She is relentlessly bold in her aspirations to create a better world.  She has used her intellect, compassion and experience to forge an incredible business – a concept that should be applauded.  Her business, Rise, is not a charity, but she still incorporates social welfare into the core of her business which makes it sustainable for the future.  Many of us have nannies and maids in our homes who have had little to no education, and she wants to improve their education and also offer to them a tool that will help them with their current, as well as, their future employment opportunities. Her online courses are online videos viewed which can be viewed from an android phone lasts between 15 minutes – 30 minutes to help educate nannies about raising children, safety and nutrition and much more, whilst in-person courses will also include first-aid training.  Rise will soon see the launch of their financial services for domestic staff allowing employers to pay salaries to nannies and maids via the app to their bank accounts in the Philippines or India. This will give our nannies more financial services options to help their own families back home.  Many of our nannies are responsible for the most precious possessions in our homes, our children.  It is also important that we support them in return and to change their future.  Her story is truly inspirational and with Padmini's new venture, I think she could change many lives for the better.
Tell us a little bit about you.
I was born on a full moon night in San Francisco, with my parents, and my grandfather, and his 150 students surrounding me.  And my childhood was full of music and laughter, and also vision and adventure.  My family saw the hippy era in America, and then moved for an even bigger adventure to Dubai,  its become part of who I am, a global nomad, a changemaker, a mother who adores her children, a student who has graduated from Oxford, a global leadership fellow who is comfortable working with world leaders on big global issues, and a banker who worked hard for her the communities she felt were ignored by traditional banking systems.   I've won awards for my work, but my biggest accomplishment is how my two children are so very proud of me.
My families lived here since the late 70's, when they started one of the first packaging businesses in the country.
I have been fortunate to work in multiple countries, but have always been drawn by my passion to serve those marginalised by societies.  I found this calling early in my career in my role as corporate banker in California, where I focused on lending to businesses owned by minorities and women, which got me my first recognition as the best banker in California from the US Small Business Administration.  Not being satisfied by financing alone and wanting to work on big policy issues, I left my job to pursue an Masters at Oxford, where my I met my husband.
We spent a year talking about changing the world during the MBA – he decided digital was the way forward, I decided policy. He joined Booz & Company , I went to the World Economic Forum as a Global Leadership Fellow, where I worked on topics ranging from addressing climate change within the G8 summit framework, to building smarter cities for a rapidly urbanising world.  When the time came to start a family, Dubai was an easy choice – he preferred Emirates over the European airlines (he lived on a plane anyway) and I preferred being close to my family – so I took a break from the Forum and moved to Dubai to later having two kids and running my family business.
What was the inspiration for Rise and how long since conceptulisation has it taken to launch?
I moved back to Dubai in 2008, to start a family and then run my family business. At that point I had been away for almost two decades, visiting only on trips to catch-up with my family and Dubai had grown. It was bigger, faster and much more dynamics – but some social challenges remained. A much larger class of labourers now, working across industries, but all facing the same problem – lack of access to funding and inability to learn new skills to grow in their careers.
In summer of 2015 my husband got called by Facebook to help them craft a strategy to connect the unconnected (their internet.org) and he spent almost a year in California with some very sharp people and in our conversations during then, it became clear that what people desired more than money, entertainment or status was growth  and a chance to be included in this globally affluent economy that social media had exposed them to.
We realized that for the five million migrants in the UAE and almost 20 million in the GCC – that opportunity did not exist. I've worked with the unbanked before, and this was not very different.  They could not get access to basic financial tools to save for a rainy day or plan their retirement or even take a loan to invest in their future. Neither did they have access to new learning or growth, they landed up working for decades in the same job / role with stagnant wages.
He left Booz and I left my family business and we dedicated 2016 to building a growth platform for migrants – not just banking or just e-learning, but an inclusive growth platform – which lets them invest in leaning new skills, improve their earnings and then better manage those earnings for the benefit of their children and themselves – across countries and markets.
Today we are live with our growth platform for Nannies / Maids in Dubai – there are almost 750,000, mainly women, who spent decades in this country, looking after multiple families and children – watching over them as they grow and move on – while they repeat the process in another home.
We have an amazing team – a maverick CTO, who is a serial entrepreneur, a passionate marketer – who is a mum and an emirates veteran, an eye for detail product manager from Microsoft and  a finance ninja with investment banking chops. We are small, but committed to building a once in a generation business, because if we succeed – we can change lives of a 100 million men, women and children who depend on migrants in GCC. If they grow, we all grow.
Who are some of the professionals that you tie-up with your rise app as part of the education program?
The idea of education through rise, was to bridge skill gaps, and knowledge gaps.  If you hear early education experts speak, its when children are young, that they need to learn, and yet a nanny doesn't have the training needed to teach them, play with them, or even help them if they're hurt.  The average vocabulary loss of a child from a low income family vs a high income family is 30,000 words a year.  With over 50+ hours of children's tie being spent with nannies, children will be impacted.  Building nanny training was around bridging knowledge gaps for nannies.  It's also about making children have better childcare.  That same value proposition exists for all the sectors we will grow in (professional, and semi-skilled service sectors).
At this stage our tie-ups are with global and local experts around nanny education and growth. They believe in our mission and have signed up because we can deliver advances that haven't existed before.
The highly acclaimed celebrity parenting expert and nanny – Nanny Stella, who helps mothers become more professional and handle kids better – is on the rise platform.  Local Arab Nutrition expert, Caroline Kanaan, who helps nannies create healthy, but delicious meals for the kids in their care – critical to deal with the rising rates of obesity in this society – is on the rise platform.
Safe Hands, our DHA licensed first aid expert, can help nannies learn life saving skills to deal with critical CPR or accident situations, while Kids First, our local child development medical chain, can help nannies use the latest techniques to deal with challenging parenting situations or identify early on any development delays.
Jenny Walters has a series of rise to the rescue courses, dealing with common challenges faced by parents and nannies – from dealing with biting to identifying and addressing signs of bullying.
We are continuously adding to this list and have coming soon a range of offline courses to help your nanny learn a specific cuisine or personal styling or even how to shop healthy – by a in-store walkthrough of leading labels and making healthier choices while grocery shopping.
In addition, we also have a range of assessment tools ranging from evaluating your nanny's overall skills to her personality profile – using a leading edge psychometric assessment, which helps parents understand whether the nanny has the right aptitude to manage their children.
We've go the tools, the right experts, and we've got so much more happening on the platform.
Can anyone sign up? What are the basic steps to getting the most out of the rise app?
 We are live on apple and android stores, the app is free to download. Both nannies and mothers can download the app – you just connect to each other through a simple verification code and you are all set to go. Browse through our 20+ courses online right now or choose an assessment for your nanny, just a couple of clicks and your nanny gets a notification to do the course on her app.
As soon as she does the course and takes an assessment at the end of each chapter, you get back a notification with her results and a report on how she did.
To make it completely risk free, we are offering a full refund on any-one's first course, if they are not happy with the course. Although, we are quite sure they will be – the courses are world class, developed by global experts and priced very competitively starting from AED 50.
As an employer, if I wanted my nannies to experience your app, what would I have to invest in their education on the app?
As mentioned above, you can do a test run for absolutely free. Longer term, we believe mothers should focus on a basic asset of skills as a must have and then help their nanny better learn to deal with certain situations – depending on their family's requirements.
Most families here spend ten of thousands of dirhams on their kids nurseries and schools – but our kids spend more time at home with our nannies, then they do in school – almost 1000 hours  more if you include holidays and vacations. We believe every dime spent on making sure that your nanny is well positioned to take care of your kids during those hours is well worth it.
You are also launching a financial service through the app with a local bank. Can you tell us how this works?
We have tie-ups with not only a local bank, but financial services providers in the nanny's home countries (India, Philippines etc.) The process is very simple – an employer can opt to pay their maid through the app. We get a local bank account and debit card for your nanny and the salary gets deposited automatically into her bank account. But that is just the beginning, once financial services are enabled – your nanny can get access to a whole set of financial products from her home country – including retirement plans and insurance.
We also have some very exciting, global first products lined up for our nannies, which we have developed in collaboration with a hedge fund in London – so watch this space.
You and you both went to university in the US and later met at Oxford University.  You have both experienced a British and an American education with an Indian education foundation. What made you both decide to choose and American system for your 8-year old and 5-year old children?
We both had an Indian system education growing up – me in Dubai and he in Mumbai – then I went to the US university system in San Diego and then we both experienced the UK system in Oxford.
We picked American, because we loved the American School of Dubai and we liked the emphasis not on outcome, but the process and the concepts that matter.
Decision making involved visiting the top schools, assessing education methodology and outcomes in general (country specific, program specific) and for each school, reviewing parent reviews, KHDA reports,… We had an excel spreadsheet we used to gather data, and pick our top 3. The final decision was made on what we felt was best for our children in the long run.  And, three years at ASD, we feel we made the right choice.
Would you describe yourselves as 'tiger parents' or are you quite relaxed?
I call us the Tiger Hippies, we hug our children lots, and listen often, were open to suggestions, and prize fun and family over accomplishment.  But in that, we've created the base for accomplishment, our children work hard to achieve their goals (and yes we set up goals, often), and enjoy learning.  Its not a chore, and when it does become one, we create more fun ways to change the scope.  On some evenings, we will watch a silly movie, and on other evenings we will read speeches that changed the world.  We're hopelessly relaxed but always striving to help our kids be their best, and when we don't have time, my parents are around and love doting   over my Ekayan and Kaavya.
We try to instill in the kids is a sense of curiosity and critical thinking – we try and answer all questions they ask – no matter how uncomfortable and we encourage them to read and understand.  We are avid readers – so our book collection and reading presence helps.  We also love family dinners, so the kids love helping in the kitchen as much as they love bicycling in the outdoors.
My kids have time with the nanny more, and that just meant training her through the Rise courses, and giving her my routine handouts.  The kids don't lose out on play or learning because she's well trained, and that makes a world of difference.
How do you manage your time between the children and your business?
I spend the morning with my kids before I drop them to school, and I set up playdates for them with their friends.  We also have dinner together, so after work we will sit and play and talk.  I also check their homework, talk about school and friends, and tell them about my day as well.  On the weekends, I spend some time organizing the week, so that routines, schedules, meals are all planned in advance.   They participate by making choices on favourite meals, so we don't have to worry about fusses when its sitting on their plate (although there have been times…).
There are evenings when I can't be home, but then I prepare them, and I plan something special for the weekend, so they have more of my attention.  It's not perfect, but for now its working, and I feel like there's enough time for balancing both.
What values do you hope to instill in your children?
I teach my kids the value of determination, honesty, and empathy.  I love letting them try new games, or art, or a puzzle and allowing them to figure it out.  I hope for honesty but show them that even when its difficult it's the most admired principle to hold up.  We also show them that its good to recognize goodness in others, and help them.
Your favourite family restaurant in Dubai?
Our favourite restaurant is at home, we use Chef-Exchange a lot, and with the beautiful outdoors have lots of dinner parties with friends and family.  When Chef- exchange won't do, I plan a menu and make it all myself.  And while that takes me half a day, it's the umms and ahhs that keep me going!  LPM's crème brulee's got nothing on mine, or so my family keep telling me!
Your favourite family holiday destination?
We love going home to San Diego.  Its  a long holiday on the beach in Del Mar where the kids go body surfing, and swimming, and generally play.  We go for long walks, and watch the sunset, and celebrate at home cooked family meals.  I love visiting the Children's Museum with them too, and taking them to the zoo.  It never gets boring, even after a month.
We drive around to Disneyland and go see the Disney stars and rides as well.  And that gives Milind and me a few days out in Los Angeles, where were visiting some fun new restaurants.  So, its fun for everyone.
What subjects at school do you think children who are 8 and 6 should work hard on at this stage?
We believe that by the time our kids are entering the job market – the world would be dominated by Artificial intelligence and machine learning tools, which will make knowledge of hard mathematical or scientific skills irrelevant.
What will matter is ability to engage with people, problem solving, critical reasoning, empathy and pattern spotting.  We believe just having kids enjoy their time in school, make new friends, learn music and understand common patterns across subjects, will be more important than the subjects themselves.
Which after school activities are a priority for you as parents and why?
Our kids love music – so they do piano lessons. My daughter loves to sing and dance too.  My family comes from a long history of legendary musicians, my grandfather was the legendary Sarod player (Ustad Ali Akbar Khan), so I am hoping they have some of his genius.  Plus they also like Rollerblading, Swimming, Tennis, Science and Experiments.  I ask them to try out new activities and if they like the activities, we keep them.  If they aren't interested, we move on to try other activities.
Do you hope to send your children to Oxford and Ivy League universities when they are older? How has attending Oxford University impacted your thinking and career?
One of the most inspiring times of my life was being in Oxford.  Being where history was made, and those would build history were taught.  I think of that time fondly, because it changed the way I think, and I met lifelong friends there.  It also made me believe in my abilities more, in the strength of my ideas and my self.
It was also the starting point for my new career in which I worked with world leaders to help change mindsets, and work on policy that made global impact.  And the role tested me, but also felt comfortable in it.  And it I think my children are like me and my husband, and will aspire to achievement (for themselves and others in society).  If that means another Oxonian in the family, I would be delighted.  But if they don't, I will encourage them in whatever field them endeavour but guide them towards being their best.
To find out more how your nanny could benefit check out www.gorise.co
Tags: Best mummy blogger Dubai, Dubai Mummy blogger, Mommy Blogger Dubai, Padmini Gupta, Palm Jumeirah, Rise, Rise Dubai, Seashells On The Palm, the online app
Friday, September 01, 2017