Health & Wellness
Health + Wellness | L'Atelier Aquafitness Launch Two Exciting New Classes to their Schedule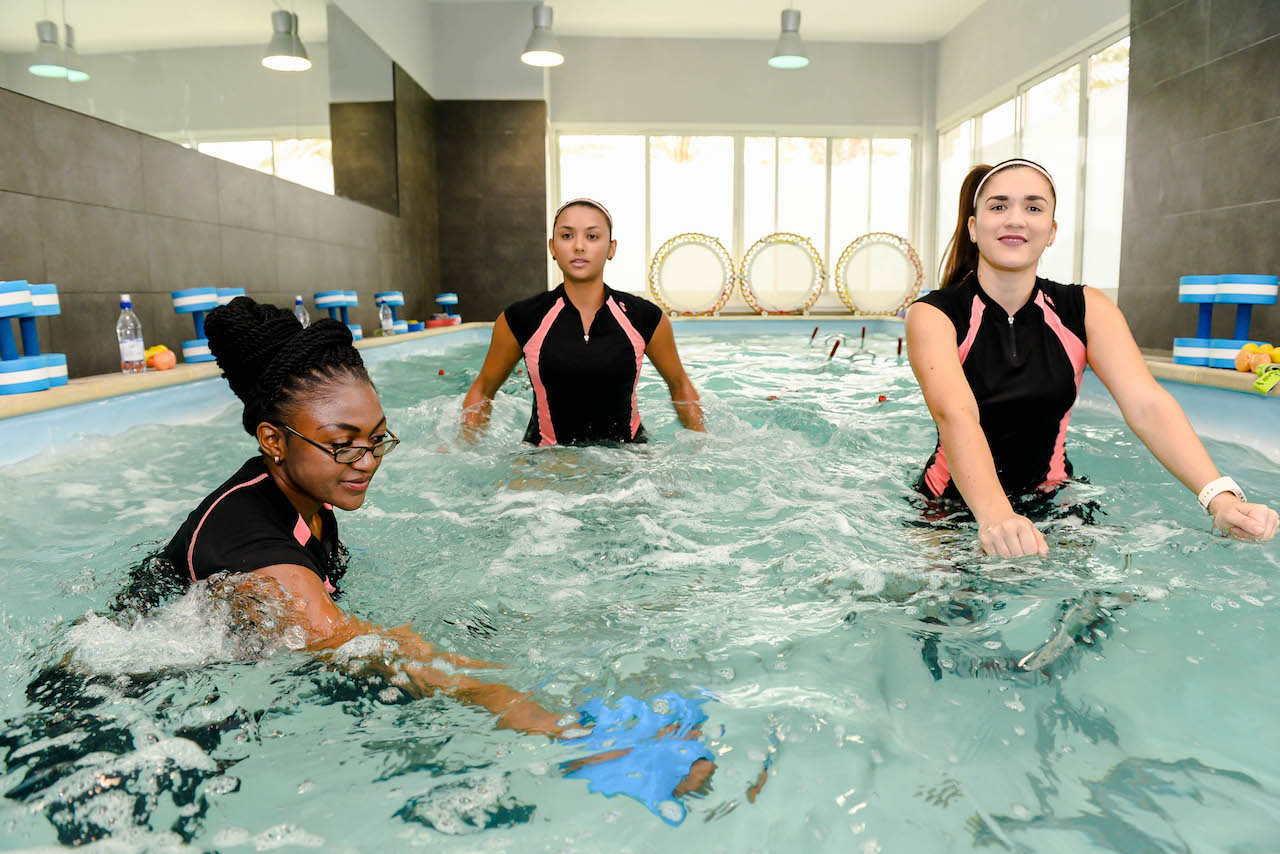 I have been a little bit more motivated to exercise this year – it hasn't been easy committing to a regular schedule to exercise as I constantly feel I am juggling everything else.  Now that my youngest is almost 3 years old, I am finally finding a bit more time to work on my health, nutrition and fitness.  I always loved team sports at school having played on every sports team at school and university but I am not always in love with exercise on its own.  The L'Atelier Aquafitness is a hybrid between exercise and fun and I am looking forward to trying some classes if time permits.  It might be a good escape from the children for an hour or so and it is out of the usual routine.  Also, summer couldn't be a better time to try these two new classes.
When it comes to exercising many fitness experts cite a diversified regime to stop us from falling into a rut or becoming bored. Not only this but if you are doing something repetitively, over time your body will get used to it and you won't have to work that hard at it anymore, and that means in short, that results will stop being as noticeable.
Keeping a varied exercise routine doesn't mean you have to change things completely though, and with this in mind, the team at L'Atelier Aquabiking have launched two fresh, exciting new classes to shake up your summer workout regime. The introduction of these two new classes promise to increase endurance, improve total body flexibility and develop core strength.
Blend Aquabiking Class
This brand new class is perfect for those who would like a condensed taster of all of L'Atelier Aquafitness' classes rolled into one. With a fantastic mix of classes, Blend gives a vivid idea of what to expect in each individual class and allows you to experience the full L'Atelier class experience, deciding which components you enjoy the most and would like to do more of. This class is also an excellent way of combining aerobic, anaerobic and muscle strengthening exercises all in one class.
Aqua Functional Class
Aquatraining classes that include circuit training combining Aquabikes, Aquatrampolines and Aquaboxing are extremely popular at L'Atelier and with this in mind, a very special class has been designed called Aqua Functional – and it is just that! The class is a functional aqua circuit training with different stations that include a variety of exercises that work on flexibility, core, balance, strength and power. The aim of this class is to train the body for activities that are performed daily.
The Blend Aquabiking and Aqua Functional Classes launch in August and each lasts for 45 minutes and are suitable for everyone regardless of age or fitness level. You do not need to be able to swim to take part in a class. Prices are AED 155 per class or 5 classes can be purchased for AED 735, valid for 3 months. The cost of 10 classes is AED 1395 and these last for 6 months. 20 classes costs AED 2635 and lasts for 9 months and 30 classes cost AED 3720 and are valid for 12 months.
L'Atelier Aquafitness is located on Al Wasl Road in Dubai. For further information, please visit www.latelieraquafitness.com or contact them on 04- 338 8323 to book your next class.
About L'Atelier Aquafitness:
L'Atelier Aquafitness was founded by Karima Rahali-Sebti in 2013 and became the first aquabiking studio in the United Arab Emirates. As true pioneers of Aquafitness, the ladies only boutique has some of the most highly skilled Aquafitness instructors and offers an array of Aquabiking classes from HITT (High Intensity Interval Training) to Aquatraining and Soft Aquabiking.  In addition the studio has its own Detox Juice and Tea Bar, an lyashi dome and a garden where yoga and pilates classes take place, offering a 360 healthy lifestyle approach for its clients.
For further information, please visit www.latelieraquafitness.com or contact them on 04- 338 8323.
Tags: Aqua Functional Classes, Blend Aquabiking Dubai, Exercise classes in Dubai, L'Atelier Aquafitness Dubai, Water bike classes Dubai
Monday, July 24, 2017