Motherhood
Motherhood | Maya Talih Khatoun co-founder of RIOT talks to us about the launch of the second hand luxury website with its stunning curated collection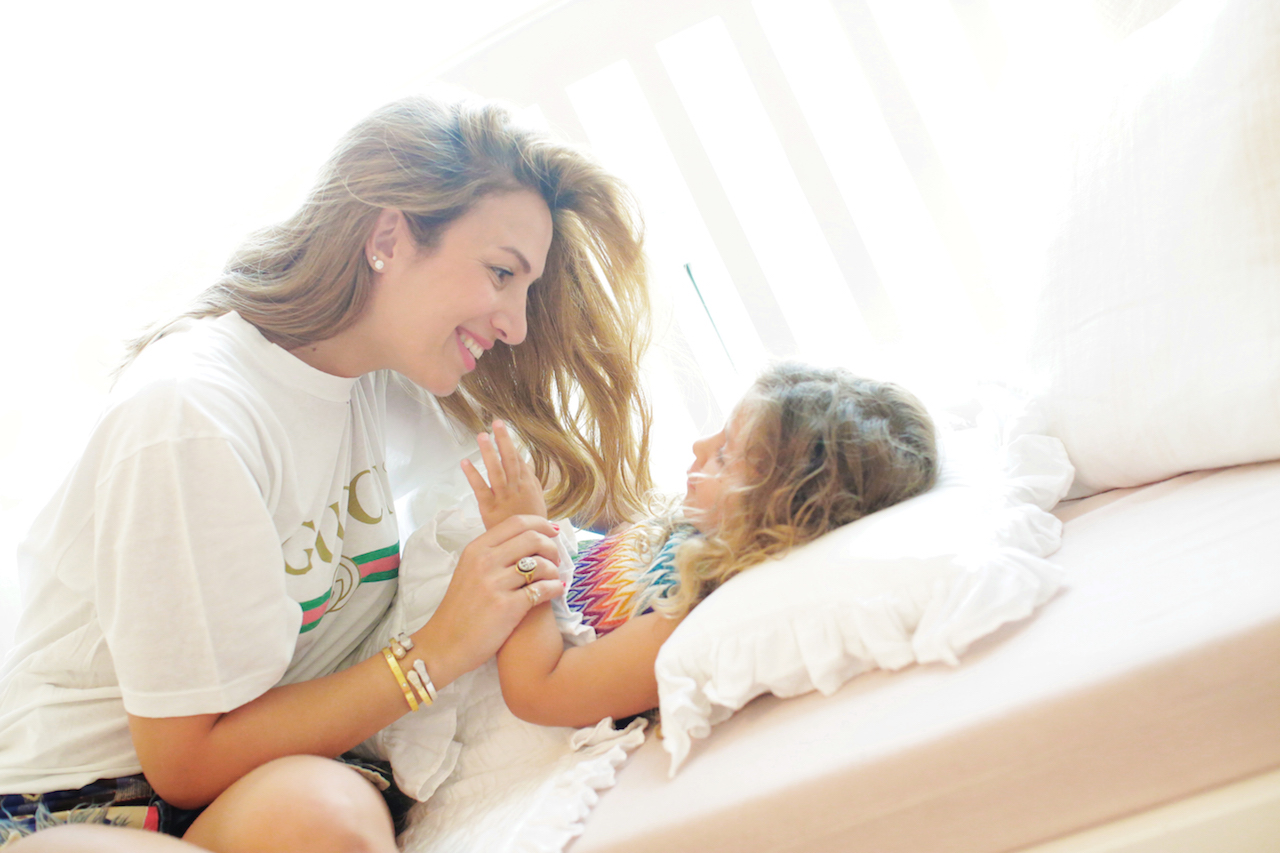 Maya wears a Gucci logo t-shirt matched with denim shorts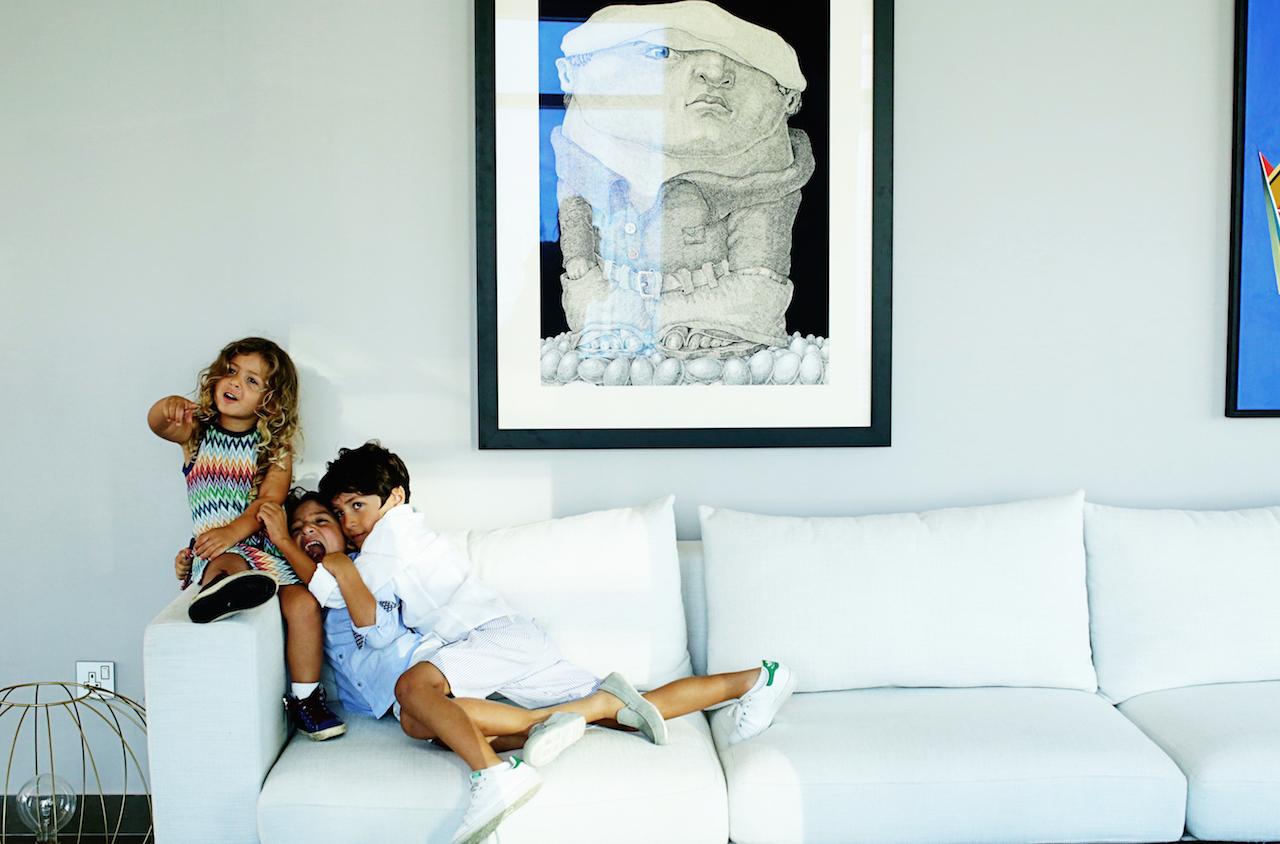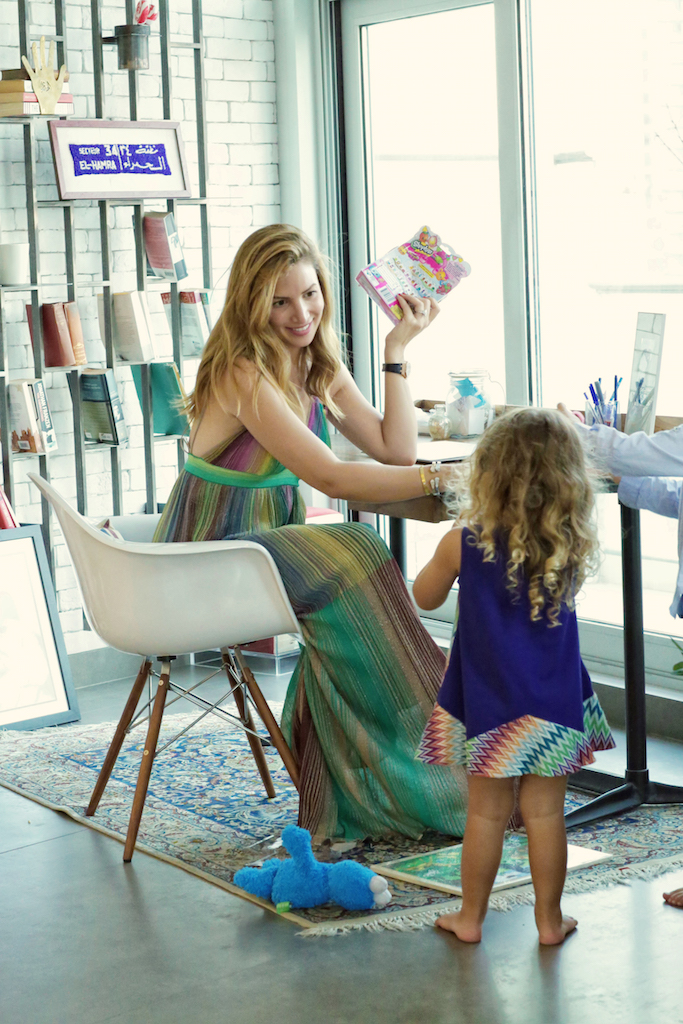 Maya in Missoni paired with Jimmy Choo shoes to match Sofia in a Missoni dress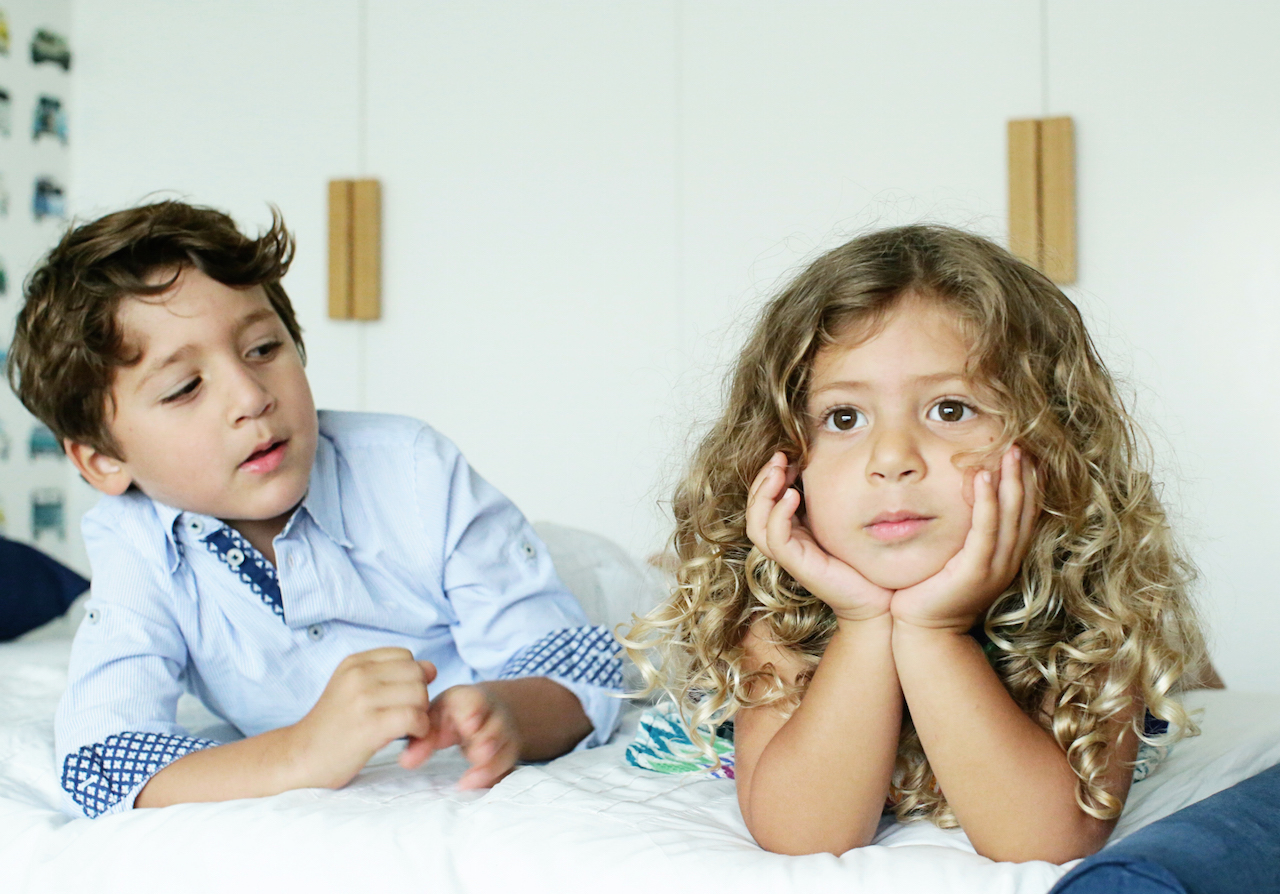 Jad is wearing Ralph Lauren shorts, an Emporio Armani shirt with Jacadi loafers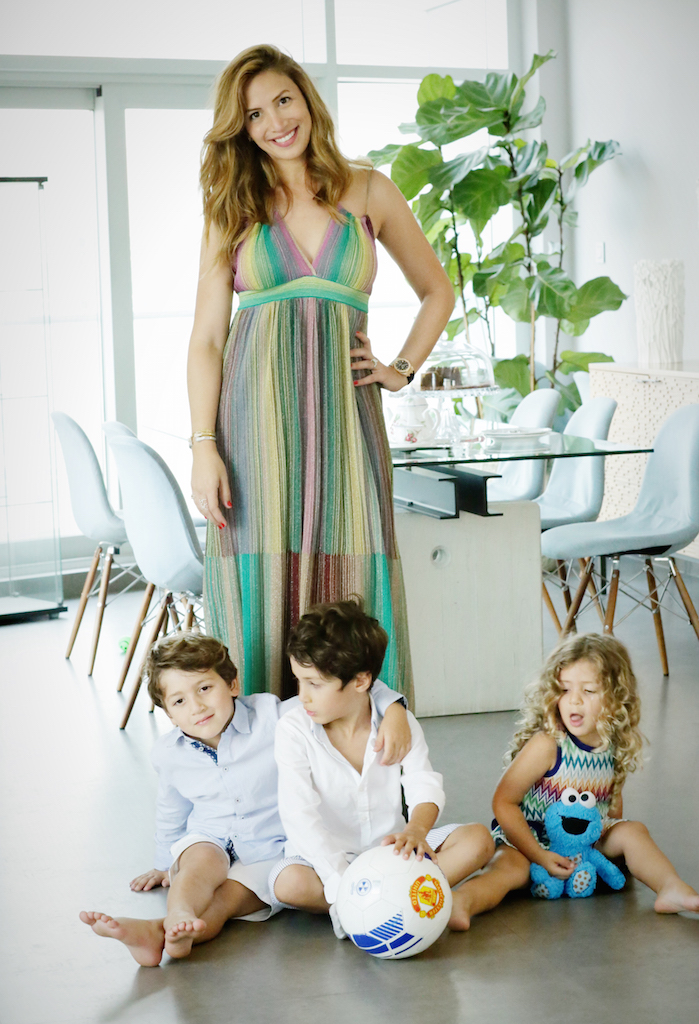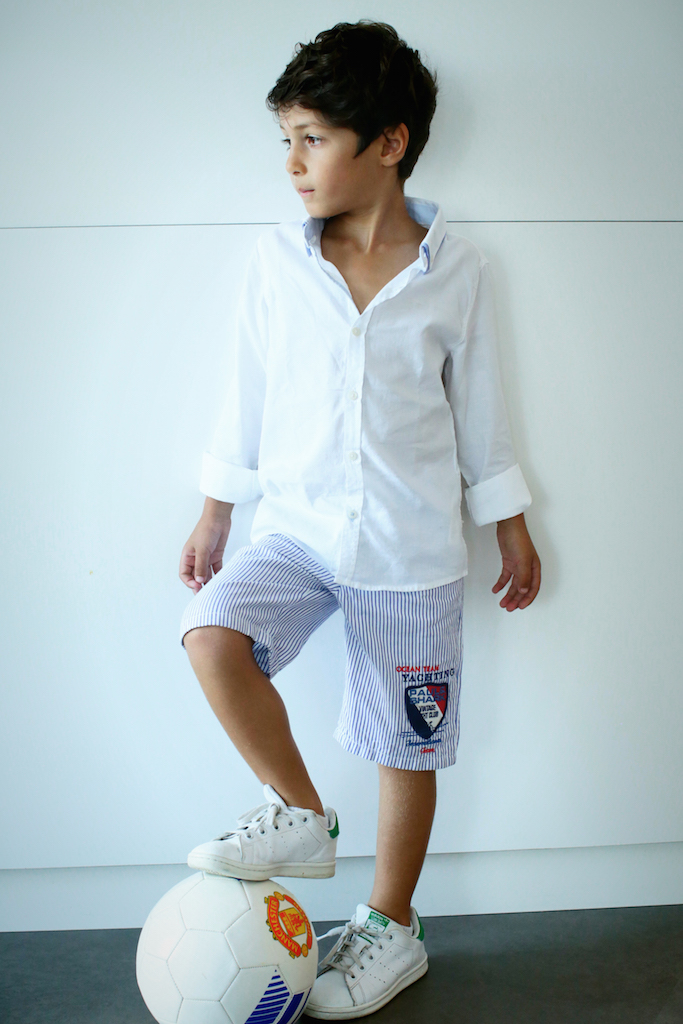 Zain sports Paul & Shark shorts and a Ralph Lauren shirt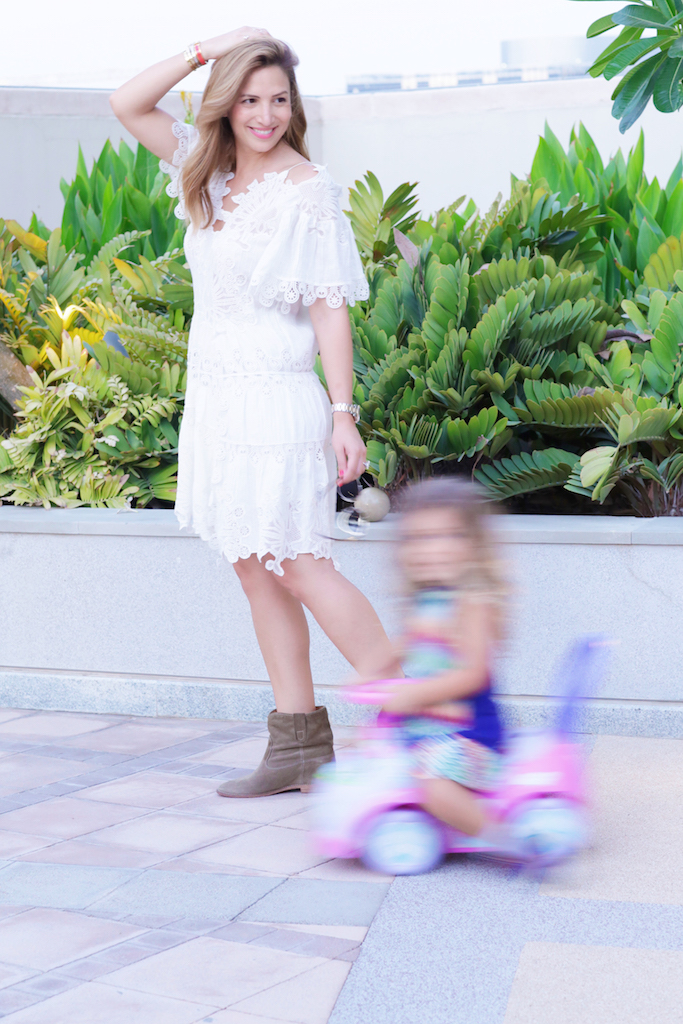 Maya wears a Chloe runway dress and Isabel Marant boots.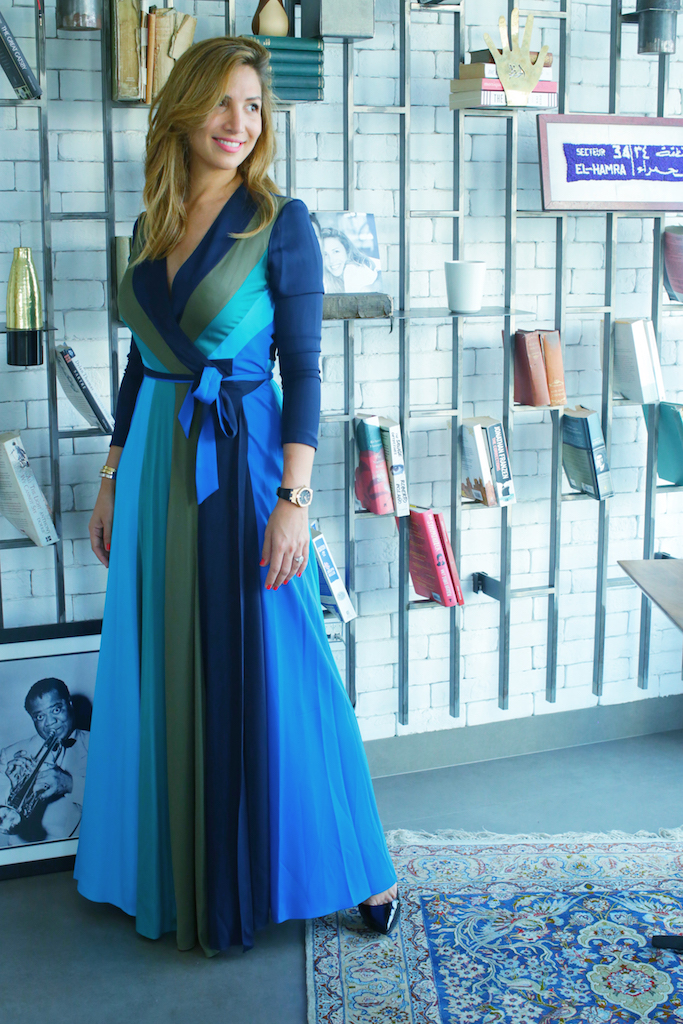 Dress by DVF and shoes are by Christian Louboutin
Maya Talih Khatoun is the co-founder of RIOT and is mum of three children, Zain aged 6, Jad, aged 5 and Sofia aged 2 years.  She was born and raised in Beirut, Lebanon where she studied Economics and Political Science at the American University of Beirut.  She then moved to London and studied Development at the London School of Economics (LSE) before starting a career with the United Nations that lasted over five years. After coming here to Dubai, she quit the UN and took up writing full time. Maya was signed up by a literary agency in London, The Darley Anderson Agency, and she has since written (but not published) one novel.
With all her achievements, the stunning Lebanese beauty remains  down-to-earth, relatable and a super mum.  She is not afraid of hard work and probably embraces it.  She wants to be the full-time career woman and a full-time mum and she manages to walk the fine line.  She is there to pick up the children, support them, educate them when they are home from school whilst building the 'Net-a-Porter' of second hand fashion items to make luxury designers more affordable to more women.  We spend the afternoon with Maya and her three beautiful children to take some photographs, chat about RIOT and motherhood.
Can you tell us about the inspiration behind RIOT and can you tell us what it stands for?
RIOT is an acronym for Re-Inventing Original Trends, it is an online boutique for curated preowned and vintage designer pieces for women and children (and soon to be men). It was born out of the need to find an equitable solution for all the unused assets in people's closets (myself, family, and friends being amongst them). We offer an easy, fast, and efficient experience for sellers who want to sell their preloved items and we offer buyers fabulous unique pieces at ridiculous discounts.
The idea for RIOT came to us at a time where poverty rates are at their deepest and widest, hunger levels are peaking, illiteracy rates and infant mortality rates are rising, and so it was obvious to us from the start that giving back would have to be part of the DNA of the company.
We know that people give back in many different ways and so we offer them the opportunity to do so through us. Sellers can volunteer a percentage of their sales to our partners at the UNHCR (United Nations High Commission for Refugees) who are dedicated to alleviating the plight of refugees all over the world. Sellers can select any of the UNHCR campaigns that they feel passionate towards and in staying true to our ethos of giving back we match all donations. Basically, We Give What You Give.
Ultimately our aim is to revolutionize the way people shop. To make our sellers think in resale value when they buy designer items and our buyers to bring their generational understanding of re-cycling and re-using into luxury fashion. And together we want to create a ripple effect of giving.
People often under estimate the hardwork that goes behind an online business, can you tell us some of your challenges and the length of time that it took to create it?
I have to say I truly underestimated the hard work that goes behind an online business. At first the challenges were those of any business; trade licenses, registration, office rentals, etc. But then the actual website was a beast in itself. Developers speak a different language, they literally speak in "code" and it's mind boggling to see how much work goes into the most basic e-commerce functions. We wanted to offer people a seamless luxurious shopping experience (without the snooty salespeople in high end boutiques!) and actually translating that into algorithms was an overwhelming, time consuming, and expensive experience. What was also challenging was the logistics that goes on behind the scenes. People only see the website and don't realize that behind it there needs to be a well oiled logistics machine, otherwise no matter how pretty the website is, nobody is going to want to use it! So to go back to your question, how much time did it take? We started working on RIOT over a year ago and we have only just launched the website this week!
Can you tell us some of the key designers often found in the RIOT collection?
Our collection is very diverse, we wanted to offer people everything from Birkins to Sandro dresses because our clientele is that diverse. We have customers who are looking for that 35,000 AED Balmain dress from the Spring 2017 runway show that is already sold out in the stores and we have others who are looking for a cool and simple diverse dress that is extremely affordable and that they can wear to the office and for date night!
I would say our key designers are Chanel (from handbags to espadrilles), Louis Vuitton, Herve Leger, Balmain, Louboutin, and Maje.
How can consumers know what they are purchasing is authentic?
Authenticity is at the heart of our business model. It is vital that we ensure all our products are authentic so that our customers can get exactly what they are paying for. We are also passionately opposed to fake or counterfeit merchandise because they are manufactured using illegal methods including, but not limited to, child labour and human trafficking. As such, all our products are authenticated twice, internally first and then assessed externally via Authenticate First, a leading authenticating company that is based in the USA and that works with us on a metric of photos that we submit according to their guidelines. Authenticate First also authenticates products for some of the biggest online consignment stores in the US and Europe.
For someone hoping to sell an item, can you tell us the process?
Selling with RIOT is very easy.  You simply go on the website and click on "Sell an Item".  You fill out some basic questions with a drop down menu and then you upload a few pictures (for extra ease, this can be done using your mobile even if you're on your desktop). The whole journey takes up to two minutes. If the item is in good condition and is one of the brands that we sell, we pick it up, authenticate it, clean it, style it, and have it professionally photographed so that we can upload it on our website in a way that makes our buyers feel like they are buying first hand luxury – because they are buying luxury at the end of the day.
Alternatively, if a seller has more than five items to sell, they can request a callback instead of uploading their items one by one, and we will arrange a pick up from their home.
Through their RIOT account, sellers will be able to track their items' journey up until they are live on the site. They will be able to see when something gets sold, decide how they want to get reimbursed, whether they want to donate or keep their profit as store credit, they can do whatever they want!
Where would you consider your home as you have an international background?
I have lived in Lebanon, in the UK, in Dubai for almost ten years now, and I always spend two months a year in France but home is, and will always be, Lebanon.
I love Beirut. For me, it is the most extreme, vibrant, contradictory, cool, eclectic, and addictive city I know, but then again, I am quite bias!
Your husband and you are very hands on with the children, how do you balance your time between the children and work?
It's tough and some days we feel like the best parents who have it all figured out and others are a complete disaster. But we try to focus on achieving the little things such as sitting all together around a table for a family meal, spending one on one time with each of the kids – even if it's just reading a few books.
We both believe that it's these little things that matter the most. It is not just the school runs and the after school activities, it is being present with them to offer that emotional one on one attention that they crave.
With work, the day to day grind, and just the trivialities of every day life, it is very easy to lose the bigger picture so we make an active effort to leave work at the doorstep (at least until the kids go to bed!) and focus on enjoying them as much as we can because they will never be this tiny again!
What are the values that you both hope to instill in your children?
The values we try to instill the most are kindness, courage, and belief. It is very important to us that our children grow up to be kind. There is not enough kindness in the world. It is also important that they have the courage to stand up for what they believe is right or wrong and not be followers in that sense. And it is vital that they believe in themselves. As parents, we are constantly telling them that they can be whatever they want to be. There are no limitations if you believe you can do something and you work hard enough for it, you will get there eventually, no matter how many times you fall.
What have been your personal struggles through motherhood?  What have you learnt that you can share with new mums?
I think my biggest struggle was the realization that I would never have a mental "day off" again. Being a mum takes up every inch of your body and soul and you are effectively worried sick for the rest of your life. What I have learnt, though it didn't come easily, is that you will never stop being worried about your kids. Are they eating right, are they sleeping enough, are they sociable enough, are they reading well enough? Will they grow up to be healthy? Will they grow up to be happy? I don't know.
And I think a lot of my "mum's anxiety" melted away when I finally accepted that I don't know what the future holds for them and that all I can do now is try being the best mum I can be and just hope for the best.
How do you normally spend time with the children on the weekends?
Our weekend starts with the children (my eldest) reading out the schedule for us at around 7am on a Friday while we are still half asleep. The schedule almost always includes a family football match, movie night, or party night.
Most weekends we go to the beach or to the park. When the weather is like it is getting now we stick to indoor activities like the theatre, cinema, and some (not as crowded) play areas.
And then we do have a lot of those movie nights and party nights in the evening with the children voting for a movie (this does not always go very smoothly) or each choosing a game for party night. Both of these result in us basically camping in the family room for the night.
What are your thoughts on after school activities?
I used to sign up my children to every after school activity out there but then I realized it mostly came from me feeling they "had" to do it or it was good for them and not necessarily because they wanted to do it. I have since cut down significantly and only do the activities that they enjoy and look forward to. I do admit that we had to go through a sort of "shopping phase" before we figured out who likes what but now we are down to a maximum of two after school activities a week. I think it's nice for siblings to spend time at home together doing "nothing". Actually, I think it is very important that children get "bored" because that is when their creativity kicks in and they learn to entertain themselves and be happy playing alone.
What are your and your husband's priorities for the children?
In addition to making sure they are happy, healthy, loved, confidant, and kind, we strive to offer them an excellent education. We believe it is something that has infinite return. Even if they wanted to spend their life surfing on a beach somewhere, they would have still developed a fuller, more enriching understanding of the world.
Your favourite restaurant for date night.
La Petite Maison is still my favourite for date night.
Your favourite hotel in the world.
One & Only Reethi Rah in the Maldives is a little bit of heaven on earth! We have been there with the children twice already and we all love it.
Your favourite family hangout in Dubai.
The Walk at JBR (when the weather is good) is up there on the children's schedule. We usually go for lunch and then visit the splash pad, play on the sand, and take a stroll in search of ice cream. There is so much to do in one relatively confined area, it's very practical!
Who are your three favourite designers?
Saint Laurent, Emilio Pucci, and Balmain are probably my three favourite design houses. They have consistently come up with beautiful collections and they are very true to their style. Recently, I have become a fan of Anthony Vaccarello as well.
Visit www.riothere.com
Tags: Maya Talih Khatoun, Riot Second hand clothes, RIOThere.com, Second hand luxury items Dubai
Tuesday, May 16, 2017