Children's Events Dubai
Return of the Dinosaurs | Burjuman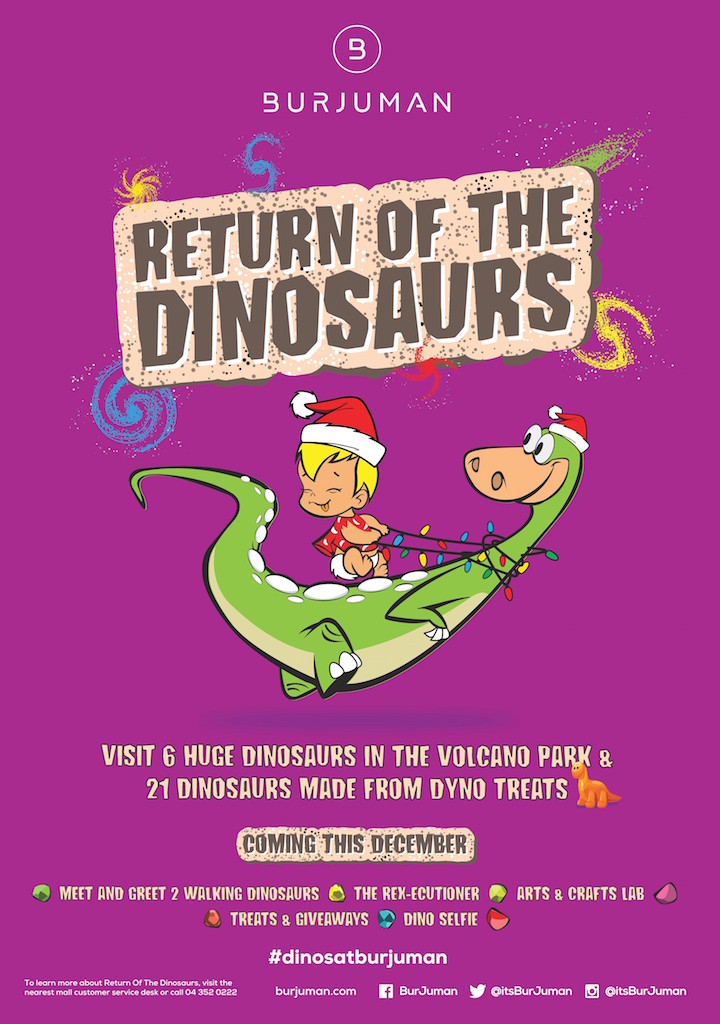 Dinosaurs are taking over Burjuman!
Starting December 3rd until January 1st, Burjuman is bringing Dinosaurs back to life with Return of the Dinosaurs.
Shoppers will be able to see a life-sized replica of T-Rex and also have the opportunity to snap a selfie or two with these amazing prehistoric creatures.
A special series of treats for the children include a Volcano Park and  a Dinosaur Park, as well as Dino's balloon binder's, Dino's face painting, Dino's arts and crafts workshops, Dino's crayon painting and much more. Return of The Dinosaurs will also feature Dino giveaways, as well as a Dino Plush toys to take home.
Don't miss out on the fun!
LIVE DINOSAUR SHOW
December 3rd – 27th
Timings:
2:45pm – 3:15pm / 4:30pm – 5:00pm / 6:00pm – 6:30pm / 7:30pm – 8:00pm / 9:00pm – 9:30pm.
DINO ARTS AND CRAFTS LAB
December 4th & 5th
December 11th & 12th
December 17th to January 1st
Timings:
Weekdays 5:00pm – 9:00pm
Weekends 2:00pm – 9:00pm
For more information, visit
Phone: +971 (0)4 352 0222
Email: info@burjuman.com
Mall operating hours:
Saturday to Wednesday 10am-10pm
Thursday to Friday 10am-11pm
Tags: activities for the children dubai, activities for the kids, Burjuman, Children, Dubai Kids, Dubai Mummy blogger, Return of the Dinosaurs, Seashells On The Palm, SOTP, things to do in dubai
Tuesday, December 01, 2015