Children's Products
The Stroller Souk | Babysouk.com | Dubai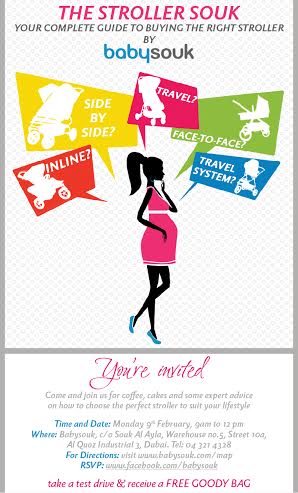 Babysouk.com are hosting a Stroller Souk event for mums looking to buy the perfect stroller.
"Are you pregnant and looking for a stroller but confused as to which one to buy and more so, not sure what to even ask? Are you having one or two bundles of joy? If you are having twins are you looking for a side by side stroller or an inline stroller?
So many questions, so much jargon and too much choice! Alas Babysouk.com to the rescue! This is your chance to learn more about what stroller best suits your lifestyle and budget and test it out outside even! With in-depth demonstrations, access to the Middle East brand experts and great special offers only available at the event, you can also pre-order some models which haven't yet officially been released in the UAE! Our premium stroller brands include: phil&teds, Mountain Buggy, Mima, Baby Home, Baby Jogger, Joie and Baby Zen.
Come join us on Monday 9th February 2014 from 9am to 11.30am at the babysouk.com warehouse in Al Quoz (coffee and cakes will be on hand to fuel the stroller demands!)"
To RSVP call us on +971 (0)4 321 4328
Keep an eye on our facebook page for more details and also visit http://souktalk.babysouk.com/
Tags: Big on Children Dubai, Children, Dubai, Dubai Kids, Dubai Mummy blogger, Dubai Mummy bloggers, Expat mums in Abu Dhabi, Expat mums in Dubai, Seashells On The Palm, SOTP
Thursday, February 05, 2015