Birthday parties can be overwhelming but one of the most enjoyable places to have a birthday party is OliOli® for children and their families especially if you are looking for a bit of educational fun.  The venue takes away the stress of parenting, and with the galleries, the there is gallery for all children – it's even hard for my children to choose a favourite gallery.  Not only is it enjoyable for the children but also for the parents – most importantly they serve excellent coffee at OliOli® which is a clear winning formula for me.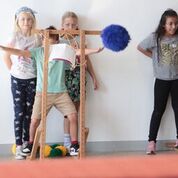 OliOli® have now launched new creative themed workshops and unique party favors as of of the 'Awesome Party Experience.'  My children were privileged enough to attend an Oli Oli party with a Slime Factory workshop was included as part of the celebrations and it was a total hit with all the children who then took the slime home.  This is such a lovely bonding experience for parents and children who may not want to mess up their own homes – OliOli® is willing to take it on for you.
Birthday Packages
There are three packages to choose from.
The Awesome Party– Providing two hours of play and a choice of three galleries.
The Awesome & Then Some Party– Bringing children two and a half hours of fun and a choice of four galleries.
The Awesomest Birthday Ever– Allowing children to enjoy three hours of pure excitement across all galleries.
OliOli® also provides a feast of healthy and organic party food for kids and a dedicated party facilitator to ensure everything goes to plan. The new party favours are available from AED 15 per child giving children an awesome and stimulating play experience!
Workshops
To make the birthday extra awesome, parents can also add a 30-minute workshop to the package and choose from unique and creative themes that include;
Slime Factory– Make the birthday extra messy, gooey, and slimey as kids get to make and play with their own slime.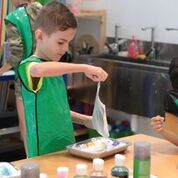 Epic Superheroes– Kids can become heroes for the day as they create and make their own capes and masks to keep forever.
Crazy Catapults– 3… 2… 1.. LAUNCH! Kids can use real slingshots to launch fuzzy projectiles in an attempt to knock their opponents' structures down.
Robo-Jousting– A Robot Jousting Battle where the last robot standing wins! Kids control their robots with an iPad and try to pop their opponents' balloons all while protecting their own.
All workshops are priced at AED 35 per child* and will add a special touch to the birthday party experience.
Prices
The Awesome Party
AED 130 per child Sunday – Wednesday
AED 150 per child Thursday – Saturday and Public Holidays
The Awesome & Then Some Party
AED 160 per child Sunday – Wednesday
AED 180 per child Thursday – Saturday and Public Holidays
The Awesomest Birthday Ever
AED 190 per child Sunday – Wednesday
AED 210 per child Thursday – Saturday and Public Holidays
All birthday packages are available to book at http://www.olioli.ae/birthdays/
*Workshops are dependent on age