Tag Archives: Armani Hotel Dubai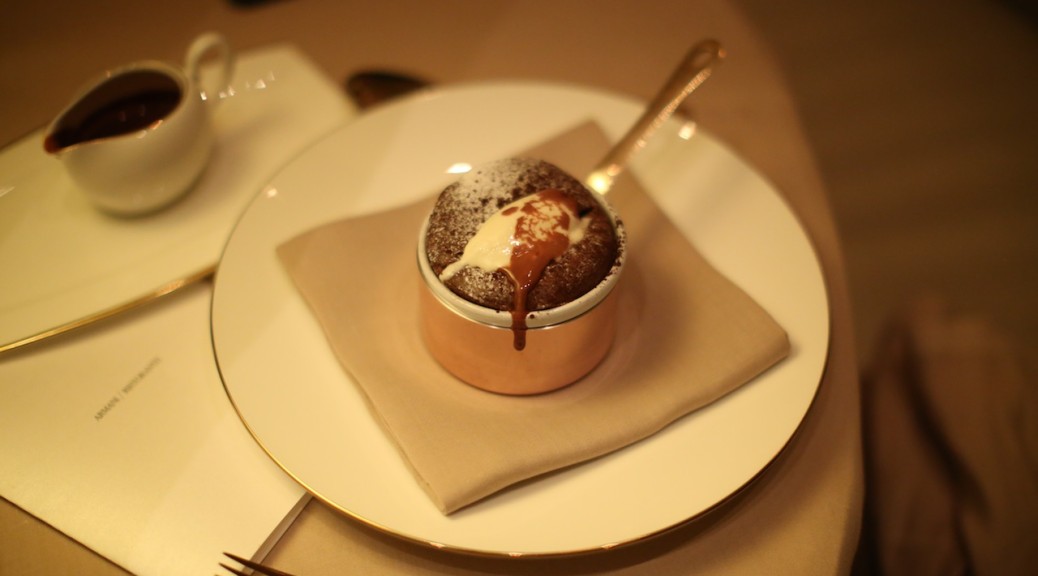 If you have a moment for a spontaneous for a date night this week, it is worth checking out any of the restaurant outlets at the Armani Hotel in Dubai this week.
The hotel has launched this amazing concept 'Gourmet 10/10' which will feature signature dishes at Armani Ristorante, Amal, Hashi and Deli.
My husband and I took the opportunity for a date night in the stylish, discreet and tranquil Armani Ristorante, the award winning fine dining Italian restaurant, under the supervision of Head Chef, Alessandro Salvatico.  Salvatico is one of Dubai's most creative chefs and this was evidently cemented when he won the Best Hotel Chef award at the 2015 Caterer Middle East Awards.
Alessandro is definitely one of my favourite chefs in Dubai who is extremely talented and so passionate about his craft, and never seems to run out of innovative dishes in his kitchen.  His restaurant is regularly patronised by international celebrities who are seeking discretion and privacy but who are definitely seeking quality too, and it was evident by the high-profiled celebrities spotted at his restaurant last night.
I was very honoured to be invited into his kitchen to watch him and his team at work preparing some incredible dishes.  He is not afraid to experiment with interesting flavours including a risotto using the zest of a kaffir lime normally found in Thai dishes.  The plate was mouth-watering with an explosion of flavours.
If you are a foodie this is the perfect opportunity to try all the restaurants serving their best food at an incredibly competitive price of AED390 including soft beverages.  Alessandro served us a light dish of Calamaretti which is baby squid filled with king crab, tomato compote and lemon confit, followed by a unique tasting risotto capes ante with kaffir lime, and a main course of vitello, smoked veal, that was cooked to perfection – tender and full of taste.  The food taste as good as it looks, every morsel.
The food is exquisitely prepared and it has been worth going to bed past my normal bedtime.   Book now as the Armani Hotel restaurant week is one of Dubai's best kept secret.
For restaurant reservations and enquiries:
Please call +971 4 888 3444 or email restaurant.reservations@armanihotels.com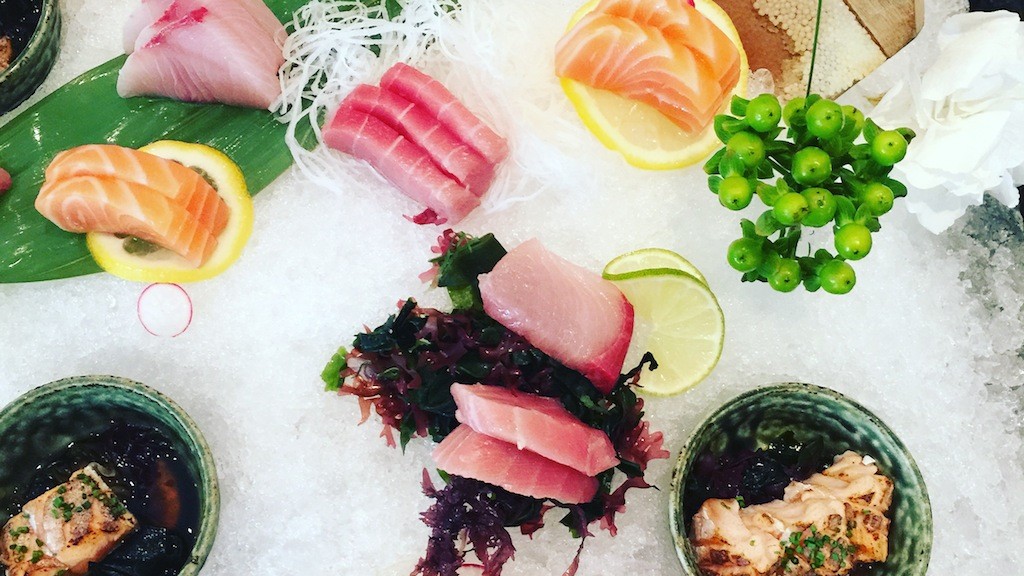 Hashi at the Armani Hotel is definitely one of my favourite places for Japanese food.  It has re-opened its doors after the summer and has brought a new brunch concept with it.  You will find a well-dressed and refined crowd with many regular guests being the residents of the Burj Khalifa who enjoy the convenience of its location, and generally people who want to experience a myriad of flavours.  Since Spencer Wadama joined as GM of The Armani Hotel, he has picked a superb F&B team including Chef Jimmy who heads up Hashi to bring a higher level of service and quality to the refined and discreet Armani property.
If you are not pressed for time it is also a brilliant place for a celebratory brunch followed by a short staycation at the hotel.
The Friday brunch includes a live violinist playing, and the food  on display are literally jewels on ice.  Some specials include beef tatami with balsamic sesame dressing, jumbo shrimps with uni cream and shimeji mushrooms, Angus tenderloin with leek miso and Black cod with hajikami.
If you wait until October when the weather is cooler you can sit outside, enjoy the fountains and the best view of the Burj Khalifa.  We do recommend booking as the secret is out that it is one of the finest Japanese restaurants in Dubai.
Hashi is open every evening, and on Fridays brunch is from noon – 4pm.
AED390 (inclusive of soft beverages)
AED490 (inclusive of alcoholic beverages)
Tel: 04 – 888 3444 
Email:  restaurant.reservations@armanihotels.com